Digital courts: distant-hearing, audio and visual recording in chambers, electronic communication
2017. May. 04. - 13:58, NKO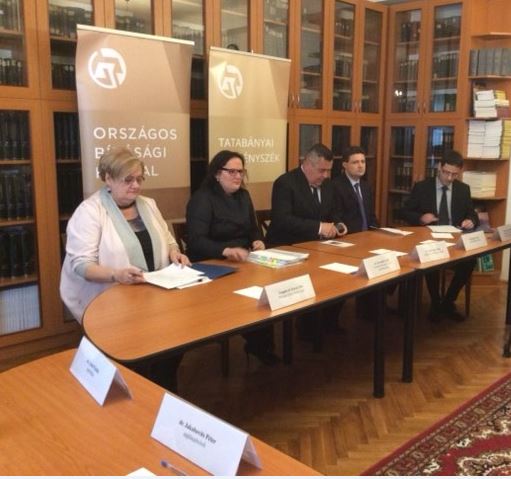 The court of the 21st century is the digital court. Among strengthening high quality and timely adjudication there was a huge improvement in electronising certain judicial work procedures, which is beneficial for parties and judges both – said the vice-president of the National Office for the Judiciary (NOJ) at the press conference before the judicial-meeting of Tatabánya Regional Court.
Dr. Judit Gyarmathy emphasized: Hungarian courts are on the 1st place of the recently published European Commission's Justice Scoreboard chart on accessibility, online information-sharing, press-communication, publicity of rulings and case-flow tracing. Further strengthening digitalisation is an important task among widening the scope with distant-hearings. This makes possible to hear persons that are not present at the hearing chamber. We also need to prepare for the introduction of audio and visual recording in chambers, which would – partly – replace paper-based annotation. The long distance goal is to introduce electronic case-files: parties would be able to have insight of their own cases from distance, furthermore, judges would be able to work from a distance.
The vice-president of the NOJ added: we need to prepare for the three great codex (civil procedural, administrative procedural and the soon accepted criminal procedural code) coming into effect this year. The NOJ helps the preparation of judges by providing curriculum and training. She explained: changes and improvements also turn up in the raising of the new generation. Last year the NOJ based the preliminary examination of the court clerks on new foundations. Now the exam is not a repeated final test, the emphasis is more put on measuring competences. Application this year's first term was three times higher than the places available, furthermore, – thanks to the clear phrasing of conditions – the number of invalid applications radically decreased.
Evaluating year 2016, Dr. Zsolt Csorba, president of Tatabánya Regional Court told: the regional court and the city courts concluded more cases than what was submitted. They aim to promote accountable financial management beyond timeliness, additionally, working environment was improved through projects.