The witness care service received more than 14.000 requests last year
2017. Apr. 26. - 10:50, NKO
"Although the most basic task of the courts is the adjudication, the judicial staff is participating in many nationwide programs as well" said dr. Tünde Handó at the press conference preceding the common plenary session of the Court of Appeal and the County Court of Szeged.
The president of the National Office for the Judiciary (NOJ) highlighted the witness care and victim protection program among the other nationwide programs. Last year at the courts the witness care service had a personnel of 241, who received 6500 requests in 2014, and over 14000 in the year of 2016.
Dr. Tünde Handó also said, that according to the Judicial Scoreboard of 2017, published recently by the European Commission, Hungarian jurisdiction is in the top third of all member states. Hungary is the 2nd concerning the speed of administrative procedures, and the number of delayed cases is also the 2nd smallest among the 28 member states. In other civil procedures sampled by the scoreboard, Hungary has the 3rd least delayed cases, and is the 6th regarding the shortest period necessary to complete the procedure.
The president of the NOJ emphasised: in 2001 there was only a net of HUF 1,7 billion, in 2016 a net of HUF 8,6 billion available for court buildings renovation. The renovation of the Court of Appeal of Szeged is still ongoing. The design plan of the building that is determinant for the city landscape has already been completed . The renewing court will keep the traditions and cope with the challenges of the 21st century as well . The renovation can start after the tendering procedure in the second quarter of 2018 and might be completed until the middle of 2020.
Attila Harangozó, president of the Court of Appeal of Szeged stated, that despite the growing workload last year, the efficiency of adjudication still improved. Mrs. Babett Tárkány-Szűcs, president of the Regional Court of Szeged emphasised that the great number of migration procedures was a major challenge for the judges, there was even a day, when no less than 104 defendants were brought to justice .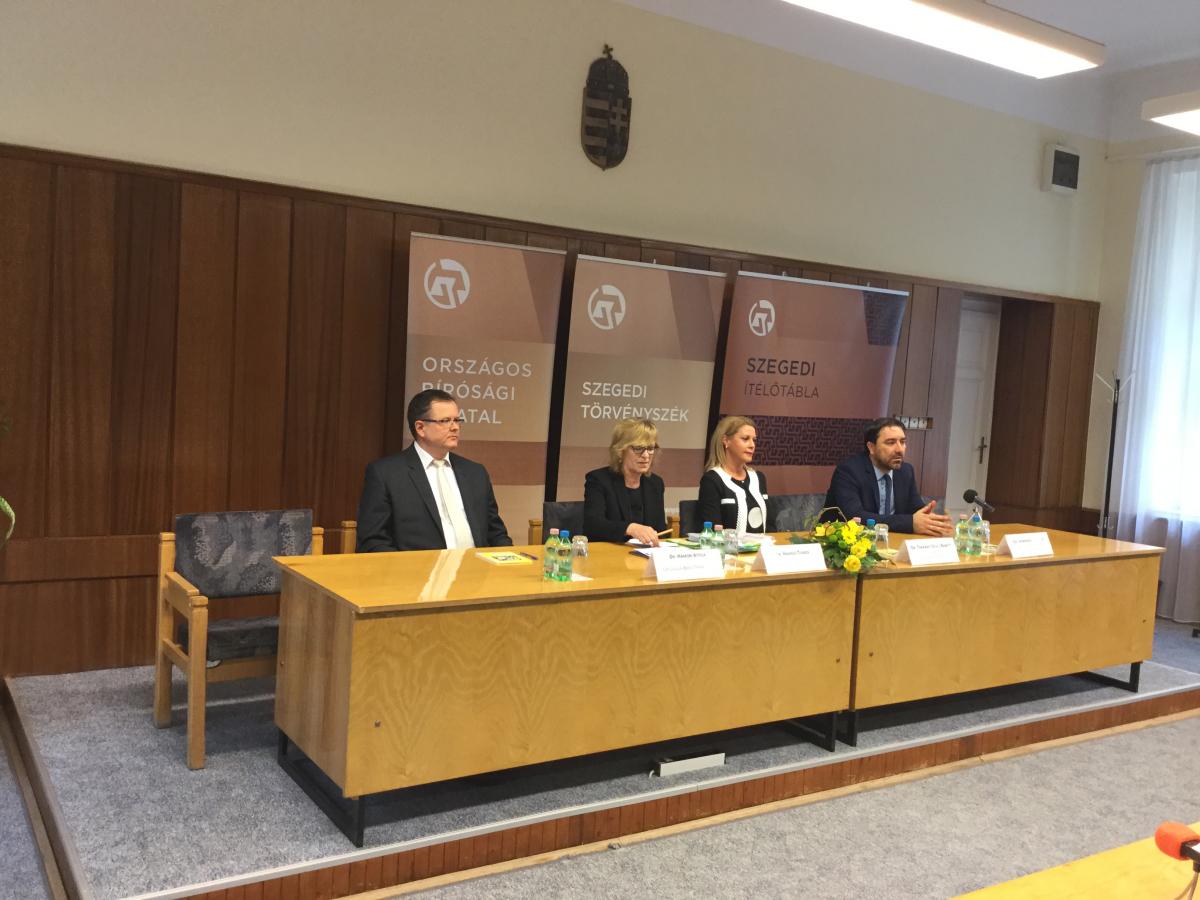 Budapest, 20th April 2017.