Women and children in migration – Women Judges' Association's international conference in Budapest
2017. Mar. 30. - 08:47, NKO
It is the second time this year Women Judges' Association's regional conference titled "Women and children in migration" took place in Budapest, including Europe's, Near East's and North Africa's region of Women Judges' International Organisation. The two day-long consultation's main theme were focusing on the issues of migration, gender, which particularly concerns women and children. The region's two directors, hon. Anisa Djanji (UK) and hon. Mina Sougati (Morocco) were present.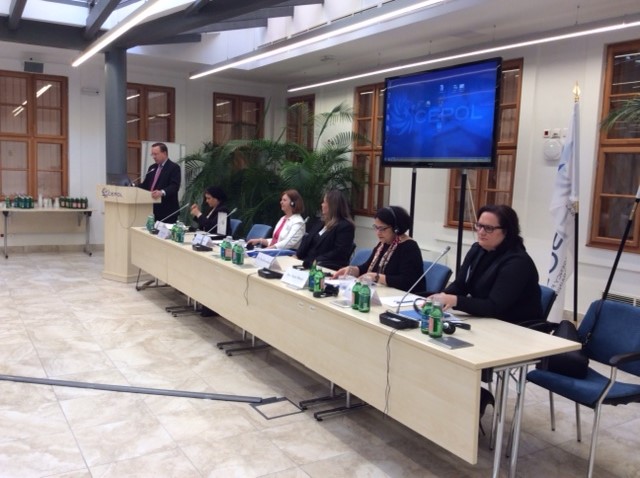 On the Second day of the conference vice-president of the National Office for the Judiciary dr. Judit Gyarmathy drew attention to the fact that the rising number of men, women and children seeking international protection in the European Union is without precedent. As she stated, there is great inequality between the ones seeking shelter: women are 1/3 of the refugees. A rising caseload related to migration is experienced on the Hungarian courts, vice-president mentioned. The situation challenges the National Office for the Judiciary and the Hungarian judicial system, but timeliness – by keeping legal deadlines – is ensured, furthermore, professionality and quality of judgements is guaranteed, since a substantial group of clients are vulnerable, defenseless, requiring special treatment: women and children.
Dr. Judit Gyarmathy told that National Office for the Judiciary project "Child-friendly justice" started in 2012 serves as a protection for the rights of the most vulnerable, enforcing and guaranteeing children's rights on the highest level achievable. She accentuated the importance of recognising victims, treating them with sensitivity while preserving the requirement of impartiality the same time. Project "Victim and witness protection" aids this goal.
Finally, she thanked Women Judges' Association's contribution in making the Judiciary not only effective, timely and professional, but open to social issues and humane as well.