NOJ Court History Exhibition opened in Győr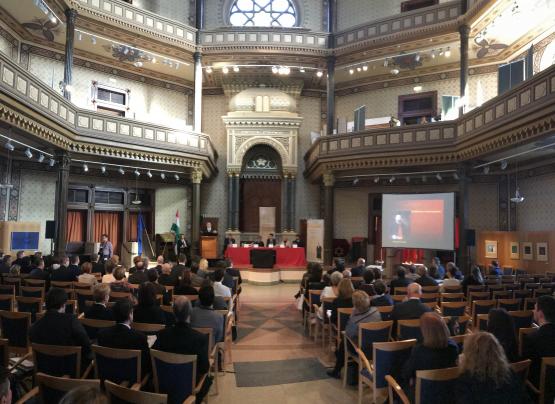 2019.02.11. - 08:40
On February 7, 2019, the program series entitled " Court History Exhibition and Conference Tour 2018-2019", organized by the National Office for the Judiciary (NOJ), has arrived in a new venue. The Court History Exhibition opened at the Synagogue in Győr, where participants  could get an insight into the history of the Hungarian court system. The exhibition can be visited till the end of February.
At the opening of the exhibition dr. Tünde Handó said that knowing the history of the judiciary makes a judge aware of the fact that the roots of the profession date back well before the foundation of the Hungarian state.
The President of the National Office for the Judiciary reminded the participants that the first station of the Court History Exhibition and Conference Tour, which was launched in 2018, was in Szeged, followed by Miskolc, Debrecen and the present event in Győr. She emphasized that the present conference also commemorates the 54th Article of 1868, which was aimed at modernizing the Hungarian civil procedure law in the period after the Austro-Hungarian Compromise of 1867. This law was born on the verge of a new era when the legislative power realized that the old civil procedure rules applicable before 1848 were no longer sustainable  in the new state system.