"A cyclopaedia of the legal profession and the judiciary" - birosag.hu received a Marketing Award at the Website of the Year contest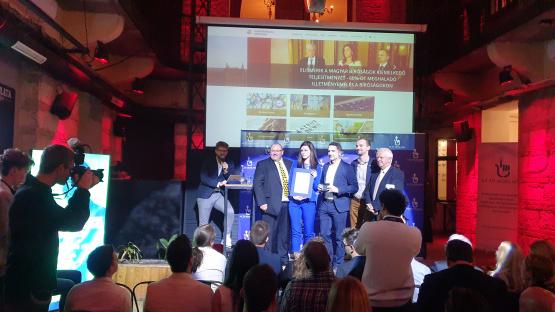 2019.11.28. - 14:55
The website of the National Office for the Judiciary (NOJ) received a special award in the government category at the Website of the Year contest.
The contest was organized for the 18th time by the Hungarian Marketing Association. This year's contest received 183 entries in 26 categories. In the category of government sites, among others, there were ministry websites, background institutions, government offices.
The prestigious award was received by dr. Sándor Vajas, vice president of the NOJ.
According to the evaluation of the professional jury, birosag.hu is the cyclopaedia of the legal profession and the judiciary, making the operation of the NOJ clear to average people. It was specifically acknowledged that the NOJ website brings a less familiar area closer to many people.
The NOJ website was updated in November 2018. The main design and its different aspects included usability, easy orientation on the site, sophisticated design and the use of innovative technologies.
The renewed birosag.hu almost quadrupled the number of visitors. While the number of users was less than 1 million a year earlier, the number of visitors has increased to 3.7 million since 18 November 2018. Birosag.hu is extremely popular with its clients, especially the sub-pages with electronic forms, and the court search function.
The successful website enables a high level of online information, which is essential at a time when electronic administration is gaining ground. The Digital Court project will continue to provide online support to clients, with new manuals and support materials to help them access courts more easily.
The NOJ was among the first contestants in the first Website of the Year contest in 2011. The professional jury looks for the best websites, creative and digital solutions, applications, influencer and community campaigns in the country. Design, user satisfaction and experience, category-specific content, creativity, and responsive web design are all important aspects of evaluation.