The Digital Court could be Hungary's new "export item"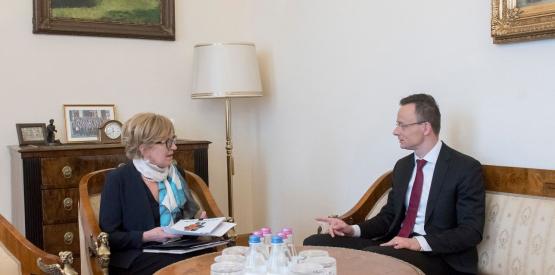 2019.03.27. - 12:17
The National Office for the Judiciary (NOJ) - by possessing the knowlegde accumulated in the field of digitalisation of courts - could play a major role in Hungary's information technology export. 
In their discussion that took place on 26 March 2019, Tünde Handó, the President of NOJ and Péter Szíjjártó, the Minister of Foreign Affairs and Trade agreed that the Hungarian judiciary had gone through an unprecedented progress in the last few years.
Tünde Handó highlighted that our courts apply solutions and provide services that  appeared inconcievable in the recent past and still are in many countries. The development and expansion of digitalisation is still in progress.
It is worth recalling that the strategic aim of the President of NOJ, declared right after the organisation was established on 1 January 2012, has been to modernise courts and to set up the digital court system that meets the requirements of the 21st century, which does not only serve the interests of clients, those seeking justice, but at the same time it improves the effectiveness of the judiciary.
The European Commission achnowledged the NOJ's efforts and results in its justice scoreboard 2018. The Commission stated that Hungary is at the forefront in the digitalisation of court proceedings in the EU and also in electronic communication between clients and courts.
The Minister of Foreign Affairs and Trade and the President of NOJ decided to cooperate and utilize the intellectual and technical achievements of digital courts, which have a significant trade value.