Family Friendly Workplace Prize - Six Regional Courts and one Regional Court of Appeal have been awarded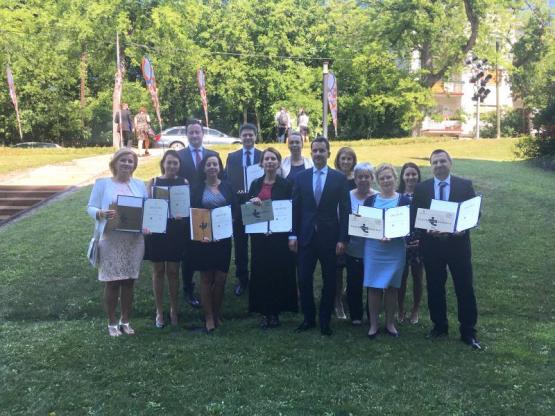 2019.07.17. - 09:46
For domestic workplaces, it is an increasingly important aspect, a need even, to pay special attention to family-friendly policies, and the judiciary is no exception. Thus, the aim of the judicial administration is to create such working conditions for judges and judicial staff that promote a better work-life balance.
In this field, the judicial organisation has performed this year better than ever before: six regional courts and one regional court of appeal have won the Ministry of Human Resources' 'Family-friendly Workplace Prize'. Győr Regional Court of Appeal, and Debrecen, Szeged, Veszprém, Budapest, Miskolc and Gyula Regional Courts are among the successful candidates. The winners' representatives recently gathered in the conference room of the Public Procurement Authority for an award ceremony.
The aim of the National Office for the Judiciary (NOJ) has been for years to make judicial career path more attractive and to provide working conditions that are favorable even to workers with families. Many initiatives, including the 'Retaining Program', also aim to encourage and motivate employees. Paying attention to workers with small children, many courts have made possible part-time work and non-standard work schedule in recent years, and have organized several family events. This year, as the latest element of the 'Retaining Program', it became possible for judicial workers to visit several zoos with their families.
Representatives of the awarded courts said that special attention had been directed towards all employees in the judicial organisation. That led to the family-friendly options mentioned on the application materials including various cultural programs, sporting opportunities, retirement meetings, preventive healthcare presentations and screenings, and stress management trainings. These novelties have been highlighted with great joy and pride by all present representatives. Nevertheless, all have emphasized that, by expanding such programs and opportunities, the goal of the future is to continue taking employees' interests on a priority status.