The goal is justice of high quality – the president of the NOJ held a press conference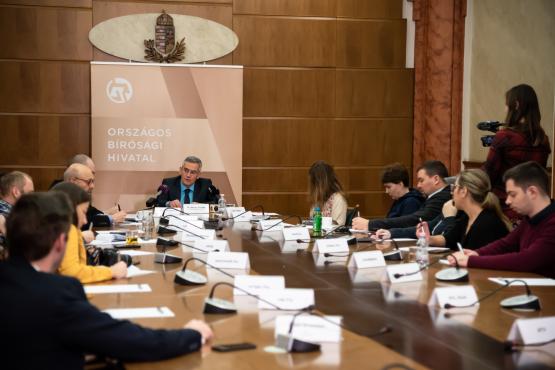 2020.02.07. - 12:25
György Senyei emphasized that the quality of judgments should be prioritized over the quantitative approach, which requires a consistent separation of administrative and professional roles.
Adjudicating cases in a timely manner is both a right under the Fundamental Law, and an undestandable expectation from clients, however a distinction must be made between "long lasting" and protracted cases. In fact, there are legal disputes which – even in the abscence of judicial omission – necessarily lead to a lengthy proceeding. Considering the current favorable caseload, courts have the opportunity to focus on the professional, well-founded completion of cases pending over five years.
As the basic function of the court is adjudication, it is necessary to refrain from non-related social activities. This does not mean automatic seclusion, but merely that such activity should be limited to the transfer of educational knowledge in schools.
The president of the NOJ emphasized that in a democratic state under the rule of law there should be room for public criticism of court decisions, but at the same time he pointed out that this criticism is often just seemingly a criticism of a court judgment, in some cases in fact qualifies as criticism of the current legislation.
In addition, when informing the public, usually only the ruling itself reaches the public, whereas the evidence on which the court has established the facts and the reasoning of the judgment are not communicated.