The judicial organization has received several outstanding awards in the Virtual Power Plant Program's Fall XI. Award Ceremony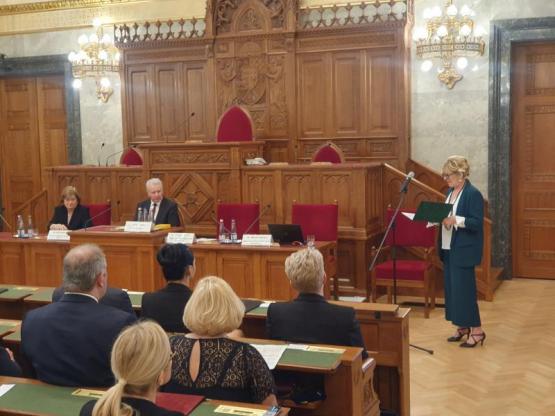 2019.09.26. - 11:52
The National Office for the Judiciary (NOJ) was awarded the Energy Efficiency Mentoring Organization, the Eger Regional Court was awarded the Energy Efficiency Institution Award.
The award ceremony of the Energy Efficiency Excellence Award, patronized by President János Áder, was held in the Parliament on 25 September 2019. The Energy Efficiency Mentoring Organization is the highest level award of the Virtual Power Plant program. The award-winning organizations commit to "place" their successes in a virtual power plant, share their good practices, and promote the program through active involvement. After receiving the award for the NOJ, Tünde Handó said she was proud that the judiciary could also contribute to the construction of Hungary's greenest power plant. In recent years, the protection of our natural environment has become more and more important for all of us, and has been prioritized in the judicial organization. Many court investments are made in this spirit: solar panels are installed on the courts, rainwater is utilized, selective waste collection is spreading, parks, courtyards and roof gardens adorn the court buildings. Tünde Handó drew attention to the fact that the NOJ continues to be committed to the environmental awareness of courts and court staff within the framework of the Sustainable Values Program.
After the Tatabánya Regional Court received the title of Energy Conscious Institution, the Eger Regional Court managed to enter the second level of the Energy Efficiency Excellence Award. If an institution wants to reach this level, it must present a successful energy efficiency measure that has already been implemented. In the spirit of energy awareness, the Eger Regional Court, thanks to the programs of the NOJ and the court's own resources, carried out a number of developments and investments in the complete reconstruction of the historically surrounded building: 154 solar panels were installed, doors and windows replaced, complete thermal insulation, lighting provided by energy-efficient LED light sources and energy-efficient electrical appliances. The Eger Regional Court strives to protect its environment, increase the environmental awareness of its employees, and reduce its ecological footprint by fulfilling its social responsibilities related to environmental protection. In the coming years, energy-conscious investments will continue to make court buildings more energy efficient.