The president of the NOJ welcomed the minister of justice of the Czech Republic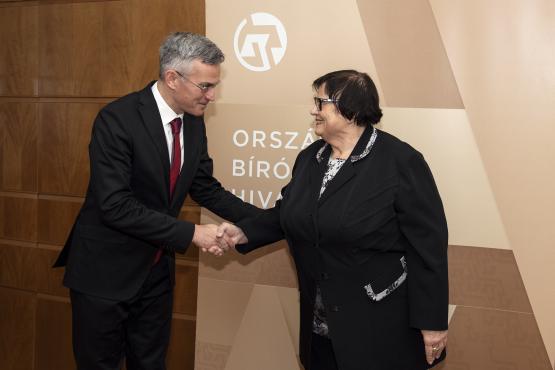 2020.02.07. - 12:16
At the meeting, György Senyei emphasized that the Czech Republic and Hungary are linked not only by their geographical proximity and common history, but also by the Roman and Continental legal roots of the two legal systems, as well as the simultaneous change of regime and accession to the European Union.
The judicial system is an immanent part of domestic law, and its definition falls within the exclusive competence of the Member States – however, of course, it must comply with fundamental EU values and guarantee the independence of the judiciary. Minister Marie Benešová, who previously held the position of Prosecutor General, introduced the Czech judicial system, which currently operates in the framework of classic ministerial administration, while several bills concerning the administration of courts are under preparation or already in parliament. The purpose of their visit is to gather information and experience needed to change domestic regulations.
At the meeting, colleagues at the NOJ presented the current model of the Hungarian judicial administration and its antecedents, the system of judicial application and evaluation, the current state of judicial digitalisation and the institutional system of judicial training. 
At the end of the constructive dialogue, representatives of both countries agreed that the meeting was only a starting point for making contacts and would like to continue working together in the future in order to deepen judicial cooperation.