Research, education, dissemination – cooperation agreement with the participants of the dean meeting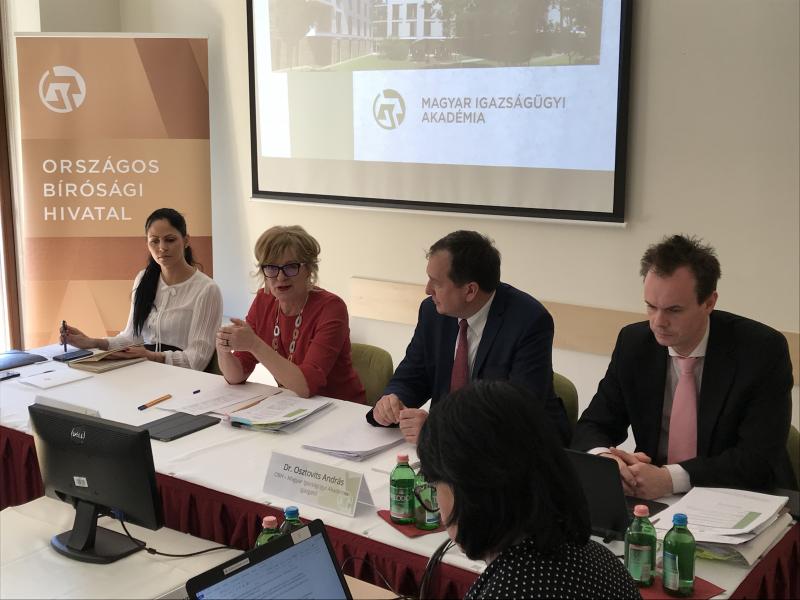 2019.04.02. - 10:43
National Office for the Judiciary (NOJ) has signed cooperation agreement with nine universities of Hungary. The judiciary and the universities taking part in legal education will tighten their relationships in the fields of legal education, legal dissemination and research.
Dr. Tünde Handó, President of the NOJ highlighted in the meeting that strenghtening the relationships between the judiciary and the universities – which had great result in the recent years as well – was her intention already in 2012. However, today is a starting point: a postgraduate course will start, called "Werbőczy Universitas", "Werbőczy Scola" intends to support researches, and the "Bírósági Szemle" journal enables the spreading of the results of jurisprudence.
Dr. András Osztovits, Director of the Hungarian Academy of Justice, said that the training of the judges is a strategic task for the NOJ, it supports the getting of postgraduate degrees for 100 judges. In connection with the "Werbőczy Scola" research cooperation, he added that the judiciary joins the coordination already at the preparation stage of researches, thus, the judiciary can provide all the help for the scientific work already from the beginning. The "Bírósági Szemle" journal, which appears in printed and online version every four months, provides publicity for not only the results of researches, but also for good practices, analysis, reviews.
Participants of the dean meeting detailed the results of the current relationship and the directions of the future cooperation in a roundtable discussion. All of the representatives of the universities consider the closer cooperation a great opportunity.
Following the the signing of the framework agreement, the constitutive session of the editorial board of "Bírósági Szemle" closed the event.