VIII. National Judicial Sports Days - Debrecen won the Trophy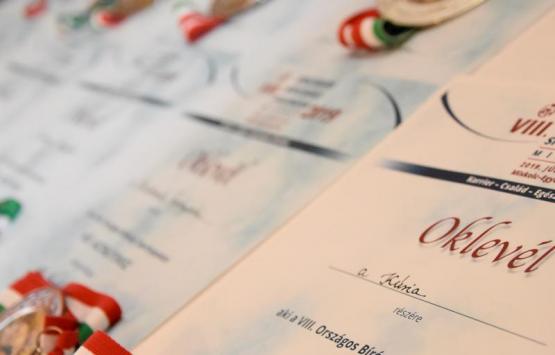 2019.07.19. - 12:27
This year's National Judicial Sports Days ended this Sunday. The program at the University of Miskolc campus was organized jointly by the Debrecen Regional Court of Appeal and the Balassagyarmat, Debrecen, Eger, Miskolc and Nyíregyháza Regional Courts with the support of Dr. Tünde Handó, President of the National Office for the Judiciary (NOJ).
The Sports Days were held in the framework of the 'Retaining Program' announced in 2019, strengthening the life-work-health balance. During the three-day long program, besides the joy of racing, all participants could relax, actively pursue their health and find the best program for themselves. The evening musical and gastronomic performances, as well as the family day offered programs not only to the contestants, but their families, too.
This year, more than 500 competitors from 26 judicial units have entered the field. They could race in six categories: chess, table tennis, tennis, extreme running, women's basketball and football. At the gala dinner and award ceremony, dr. Tünde Handó, President of the NOJ, dr. Árpád Répássy, host of the event and president of the Miskolc Regional Court, as well as the presidents of the organizing courts greeted the contestants and the guests.
The overall winner became the Debrecen Regional Court and was awarded the Trophy, the symbol of the Sports Days. In overall results, Kecskemét and Tatabánya Regional Courts share the second place, while Balassagyarmat Regional Court ranked third.
Rankings in each category:
Chess:
1st place: dr. Zoltán Gunyecz (Nyíregyháza Regional Court)
2nd place: dr. Gergely Árpád Kiss (Debrecen Regional Court)
3rd place: dr. Sándor Katona (Curia)
Table Tennis Women's Singles:
1st place: Viktória Magyar (NOJ)
2nd place: Andrea Novák-Kazareczki (Miskolc Regional Court)
3rd place: dr. Klára Soós-Görgényi (Kecskemét Regional Court)
Table Tennis Men's Singles:
1st place: dr. Levente Lukács (Szeged Regional Court)
2nd place: Csaba Kolumbán (Kaposvár Regional Court)
3rd place: Péter Kaposi (Tatabánya Regional Court)
Table Tennis Mixed Doubles:
1st place: Andrea Novák-Kazareczki and dr. József Novák (Miskolc Regional Court)
2nd place: Erika Göncz and Csaba Kolumbán (Kaposvár Regional Court)
3rd place: dr. Klára Bükkösi and Péter Kaposi (Tatabánya Regional Court)
Tennis Women's Singles:
1st place dr. Krisztina Kotosmann (Debrecen Regional Court)
2nd place: dr. Ágnes Andrási-Borsi (Kecskemét Regional Court)
3rd place: dr. Zita Balassa (Central District Court of Pest)
Tennis Men's Singles:
1st place: dr. Adam Bana (Szolnok Regional Court)
2nd place: Péter Hrubecs (Balassagyarmat Regional Court)
3rd place: dr. Attila Kincses (Budapest-Capital Regional Court of Appeal)
Tennis Mixed Doubles:
1st place: dr. Ágnes Pullai and dr. Attila Kincses (Budapest-Capital Regional Court of Appeal)
2nd place: Annamária Veres and Péter Hrubecs (Balassagyarmat Regional Court)
3rd place: dr. Ildikó Futó and dr. Árpád Gyula Bagdi (Gyula Regional Court)
Extreme Running Women's Singles:
1st place: dr. Veronika Ruttner (NOJ)
2nd place: Éva Édor (Tatabánya Regional Court)
3rd place: Erzsébet Zsigmond (Debrecen Regional Court)
Fair play award in the category: dr. Gabriella Hanzó (Central District Court of Pest)
Extreme Running Men's Singles:
1st place: Róbert Benkő (Nyíregyháza Regional Court)
2nd place: Ákos Kiss (Kecskemét Regional Court)
3rd place: dr. Zsolt Schmidt (Pécs Regional Court)
Extreme Running Mixed Doubles:
1st place: Éva Édor and Tibor Csizmadia (Tatabánya Regional Court)
2nd place: Erzsébet Zsigmond and dr. István Bereczki (Debrecen Regional Court)
3rd place: dr. Nóra Bohus and Gyula Fülep (Eger Regional Court)
Women's Basketball:
1st place: Debrecen Regional Court
2nd place: Budapest Environs Regional Court
3rd place: National Office for the Judiciary
Football:
1st place: Székesfehérvár Regional Court
2nd place: Balassagyarmat Regional Court
3rd place: Pécs Regional Court