"Spending time at the CJEU is an invaluable opportunity" – interview with judge Breczkáné dr. Gabriella Békési, EJTN scholar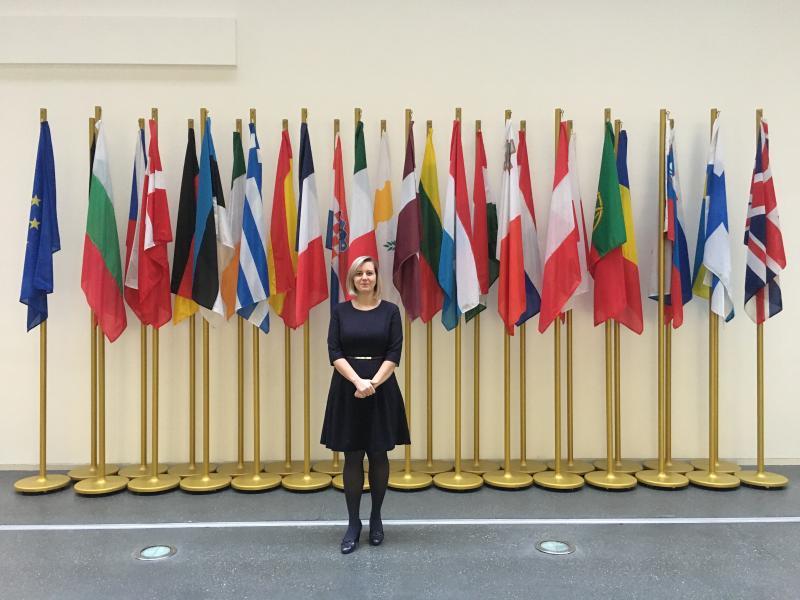 2019.11.28. - 09:55
The Hungarian scholar of the EJTN Long Term Exchange Program takes every opportunity to increase her knowledge. Breczkáné dr. Gabriella Békési began her 10-month scholarship in September at the Court of Justice of the European Union (CJEU), where she spends even her free time studying the decision-making mechanism of the CJEU. From the conversation it emerges how lawyers in the EU can cope with the challenges of internationalization, how they overcome obstacles ensuring the successful operation of such a monumental institution of the EU.
Are you already comfortable at the CJEU?
At first, it seemed frightening, as it is a huge institution with three towers of more than 20 floors each. However, right from the first days, I have spent a lot of time exploring it, so now I walk confidently on the corridors. I did not get lost even when I was looking for a document that was found in a hidden part of the labyrinthine library.
How did the first two months go? Has your daily routine worked out?
I feel that integration has gone faster than I expected thanks to the kindness and helpfulness of my colleagues. At the General Court where I work, I was assigned to the cabinet of one of the Romanian judges who deals mainly with trademark issues. As a judge in Nyíregyháza, I have not had insight into these cases so far, as in Hungary they belong to the exclusive competence of the Budapest-Capital Regional Court.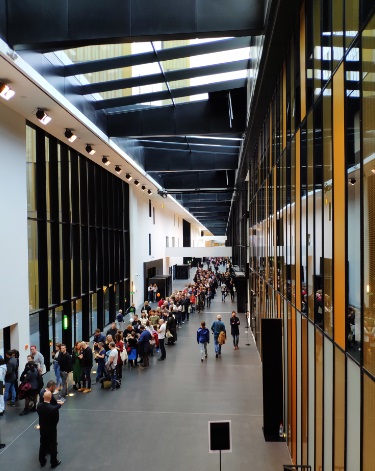 What are your tasks at the General Court?
First, we review the case file with the judge together. II tell her iif I have a comment before the hearing, and after the end of the hearing we continue the discussion. We clarify the client's answer to the question and whether it was relevant. If I have some comments, I tell the judge. Once, I wrote one aspect of the reasoning of a judgement.
How does a hearing take place at the General Court?
The hearings are conducted in French or English, depending on the language chosen by the client. There are very few examples of Hungarian interpretation. So far, one hearing in October has been an exception, which was about Hungary. That time, every client has spoken in Hungarian. I participated that hearing in my spare time, as well as a lot of other ones, because each of them provides useful knowledge.
What is the work mood like at such an international institution?
I can work well together with everyone. Family atmosphere and loyalty are typical of our daily lives. We often celebrate with festive lunch. Right after summer break, we greeted the start of work with a joint program. Another time, the judge invited the whole cabinet to her home for dinner. In October, for my birthday, in order to introduce Hungarian specialties to my colleagues, I baked poppy seed 'bejgli' and took Tokaj wine.
What do you have time for beside work?
I really enjoy exploring the building and I spend a lot of time in the library. The quantity of its professional literature is amazing. I have already found a lot of Hungarian legal books and papers, and I have started a study as well.
How has the last three months affected your foreign language knowledge?
I work mainly in English, but I am constantly developing my French skills by attending a French course on Mondays. This is important because the official language of the CJEU is French. My colleagues speak practically in French with each other. I try to catch up with it, but if I fail, I switch to English. Of course, it leads to funny situations. For example, once I was having a conversation with one of the assistants and I got surprised that I didn't understand anything. When I told her, she apologized because she had just happened to speak Portuguese, her native language. We laughed a lot about that.
What experiences do you relate in your reports?
There have been some cases that could interest the Hungarian colleagues. I wrote about a foreign currency loan case, an infringement procedure, the Rubik's Cube trademark case. My aim is to present briefly the actualities while preserving professionalism. In addition, I try to gain insight into CJEU's everyday life. In October and in November there have been several events. Five-member chambers turned to three-member chambers. There have always been some appointments, organizational changes - there is never a dull period, so I always have something to report on. All in all, I have a great time at the CJEU, and I can deepen my professional and language skills.